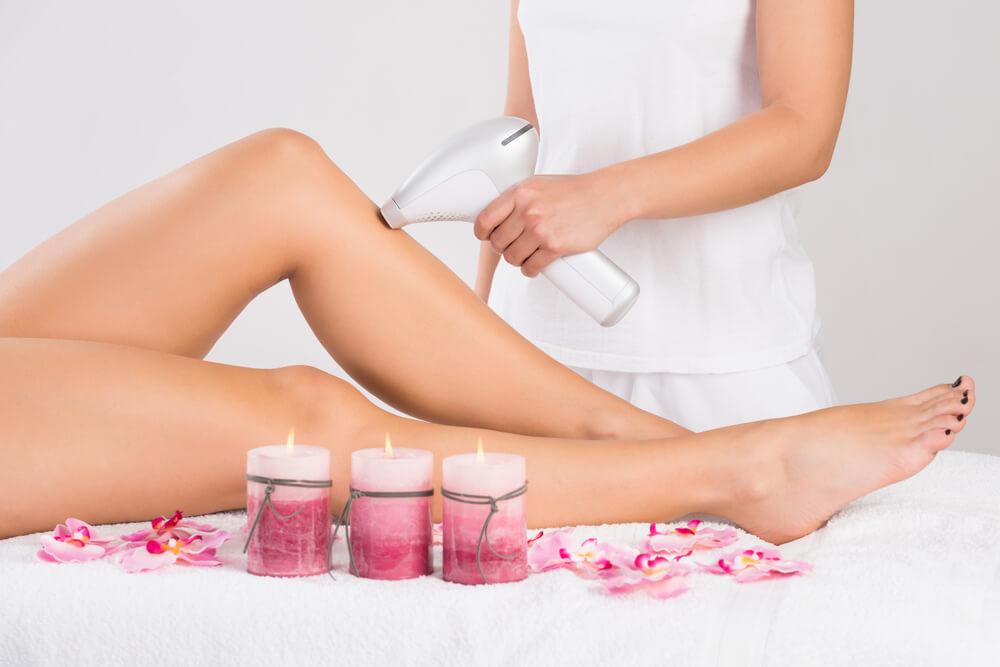 As a Vancouver laser hair removal clinician, the most frequently asked questions I get are, "How many laser hair removal sessions do I need?" and "Does laser hair removal hurt?" This has inspired me to share the ins and outs of laser hair removal including the number of treatments generally required per area, which parts of the body are slightly more sensitive, what you can do to reduce the discomfort and how to increase your chances of safe and effective treatments. Consider this your laser hair removal primer!

How Many Laser Hair Removal Treatments will I Need?
This depends on a number of factors including how much hair you have, how often you need to shave, tweeze or wax, your age and hormone levels, etc. In general, the more hairs you have, the more treatments you'll need. For women with regular hair patterns six to eight sessions usually does the trick. For women with hormonal hair growth, such as coarse hairs on the chin and face, 10 to 12 sessions may be required. For men with regular hair patterns, eight to ten sessions is the norm. For men with heavier or denser hair patterns, 10 to 12 sessions could be needed.
Hair growth is directly related to hormones and friction or stimulation from walking and day-to-day movement. Fluctuating hormones and high testosterone increase hair growth. We also know one of the functions of hair is to protect the skin against friction. When we walk, our clothes rub up on our skin and this stimulation causes blood flow to the area, which can increase hair growth. For example, a man's shoulders get the most amount of friction from daily movement and that's where we notice more hair growth. For women, we find the areas that require the most amount of treatment and more frequent touch-ups are the face, arms, knees and upper legs. For men, it's the shoulders, as we mentioned, the back of the neck where the shirt or collar sits, the arms and the angle wing (over the ribs on the back side of the body).
Start Your Laser Hair Removal Sessions - Book Your Free Consultation Today
How Long do the Effects of Laser Hair Removal Last?
The effects can last for many years, however, so long as we're alive and healthy some new hairs can grow out. You'll know they're new because they tend to be fine in texture. We generally recommend maintaining your results by doing a touch-up treatment once or twice a year.
What You Need to Know About Skin Type
Currently, there are many manufacturers of laser machines but there are only four types of lasers and one other system known as IPL that are used for laser hair removal. There is an ideal laser for each skin type. Stepping out of the recommended range can increase the risks and lessen the efficacy of the laser. We suggest finding out what skin type you are and then going to an accredited clinic (ahem, NuAGE Laser) that offers the appropriate laser. Here are the skin types:
The five systems used for permanent hair removal are:
Ruby: Ideal for skin types 1 and 2
Alexandrite: Ideal for skin types 1-4
Diode: Ideal for skin types 1-4
Nd:YAG: Ideal for skin types 5 and 6
IPL (Intense Pulsed Light): Ideal for skin types 1-4
As you can see, skin types 5 and 6 should only receive treatments from an Nd:YAG laser. It's the safest one for tanned skin types and any other laser can cause complications. Here at NuAGE Laser & Skin Care in Vancouver, we offer lasers for each and every skin type. So, whether you're type 1 through 6, we've got you covered.
In addition to skin type, we also take into account your hair color. We often get asked if laser hair removal works on blonde, red or gray hairs? Well, as long as the hairs have some pigment, permanent hair removal can be achieved. Some blonde hairs may be too transparent or fine and those that can't be seen by the laser may or may not be treated. Laser hair removal for those with red hair is tricky. Results will depend on the coarseness and color of the hair. We suggest a consultation and possibly one or two treatments to start. If you don't get the results you expect, you can simply stop treatment. Since gray hairs have no pigment at all, the laser can't see them to be directed as to where to go. Unfortunately, gray hairs don't respond to laser hair removal.
How Can I Ensure Treatments are Safe and Effective?
As a laser technician, my job is to get you great results safely. There are things that can make your skin respond poorly to any treatment, including waxing. When the technician asks you about your skin care, your health and your medication, it's imperative for you to be clear about any changes. This way you can benefit from the skin care treatments without any risks. Laser technicians select their setting based on your skin's overall health. So, for example, if you forgot to tell them that you attended the Sun Run over the weekend and were exposed to direct sunlight for four hours, she may treat you more intensely than your skin can handle at the moment.
Must be off Accutane for up to one year
Sun sensitizing/photosensitizing medication can cause burns
Sun sensitizing/photosensitizing products like Retin-A, retinol, glycolic acid, benzoyl peroxide and salicylic acid shouldn't be use on the area for up to two weeks before treatment. These products can make skin sensitive to light and may cause some skin to thin out
Tell your technician about any recent facial surgery or, if treating the body, recent body surgery
Tanning and sun exposure must be avoided for up to two weeks before treatment
What are the Sensitive Areas for Hair Removal?
Laser hair removal does not hurt any more than waxing or tweezing. This is especially true if the correct laser device is used and your technician is familiar with the required settings. If you have never been waxed or experienced threading or tweezing, than your skin won't be used to hair removal. In this case, we would select a setting you're comfortable with.
Of course, some parts of the body are slightly more sensitive to any and all hair removal methods. For women, the most sensitive areas are the upper lip and the bikini area. For men, it's the front of the neck and the chest area. There are a few things you can do to reduce discomfort and anxiety if it's your first experience with laser hair removal:
Take Advil one hour before your treatment.
Use a topical numbing cream 30 to 60 minutes prior to your treatment. The one we offer is 16.5% Lidocaine. There are also over-the-counter numbing creams you can purchase at any drug store (Lidocaine percentage can range from 2.5-5%). You can expect the level of discomfort to be reduced by half, however, this depends on how strong the numbing cream is. The higher the Lidocaine percentage, the stronger it is.
Shave the area within 24 hours of your appointment; the closer the shave, the better.
For women, the best time for treatment is one week after you menstrual cycle for obvious reasons.
Your overall health can affect your pain tolerance too. If you're feeling sick or stressed than your body probably isn't in the mood for much and the laser and any other treatment will be uncomfortable.
Generally speaking, we've never had someone say, "This is unbearable and I just can't tolerate it." I guarantee laser hair removal is far less painful than waxing, threading or electrolysis. If you're really nervous, I'd suggest trying a patch test to see for yourself!
Hopefully we've answered your most pressing questions about laser hair removal. Book your free consultation today at NuAGE Laser online or by calling 778-379-5444 and we'll go into even more depth about the process and address any of your additional questions or concerns. We offer safe and effective laser hair removal in Vancouver for all skin types. Say farewell to shaving, waxing and tweezing and experience the freedom that comes with laser treatments.